Comments are an excellent way to facilitate communication within a team or organization. Members can use comments to exchange information about a topic that does not necessarily have a place in other forums. For example, comments can be used to explain why a file (such as a contract) was formulated the way it was without inserting that information directly into the file, which may not be suitable. 
Enabling and disabling comments
Comments can be enabled or disabled in the Workspace by any Workspace Administrator. To enable or disable workspace comments, go to Settings > General Settings > Configuration Options > "Enable Comments" > Yes
 
Comments 
When comments are enabled in workspace settings, members can comment on any file, discussion, database record, calendar event or Wiki page. It is possible to nest a reply comment under the original comment by selecting Reply. Read more about sorting comments.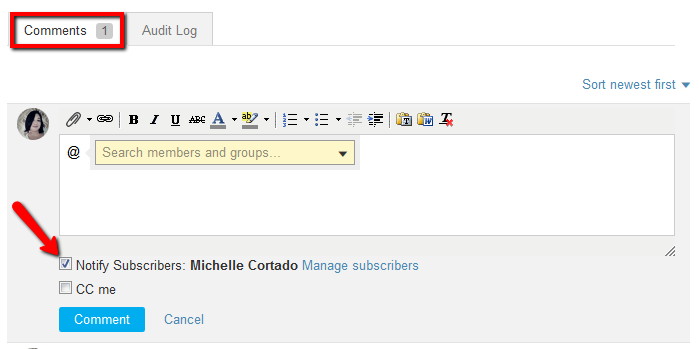 All comments sent in via email to Uploaded files, Online Documents, and Online Spreadsheets notify all subscribers via email of the comment. If you do not want to notify all subscribers of your comment you will need to login to the system to post your comment. There you have the option to uncheck the "Notify Subscribers" checkbox. You can use an @mention to direct your comment to specific users or choose to manage subscribers to add or remove members from the comment notification.
Email notifications
Comments can also be added by replying to notification emails. Read more here about emailing in replies
For Discussions and Forum posts you can choose if the default setting for email notifications is On or Off. When Email notifications are turned on, adding a comment to a discussion will generate an email to all discussion participants. Replying to a comment, from within the system or by email will also result in an email to all participants.
Find this option in workspace Settings > General Settings > Configuration Options > Communication section

Note: Emailed in comments are only accepted from members of the workspace. Comments emailed in by email addresses not associated with a workspace member email address will be discarded. See this article on
Alternate Email Addresses
for more info.