My Calendar, available from the user drop-down menu, is an area where you can easily access tasks, milestones and events across all of your workspaces in a one month calendar view. Tasks and milestones assigned to you, and events of which you are a participant, will appear in your My Calendar. To access the My Calendar view, navigate to the user drop down menu (next to your name in the top right) and select Calendar.
This gives you a visual representation of upcoming activities to help with project and time management.
The activities shown on the calendar are color coded according to the workspace they are located in. The key is listed to the right of the calendar itself.
The My Calendar area also allows you to create a new event by clicking the New Event link on the upper left area of your workspace, and also by hovering your cursor over a desired date. From here you can create a standard calendar event, include a scheduled web-meeting, and link the event to a specific workspace or make it a personal event.
Personal events function just as workspace events, but the details can only be viewed by you. Furthermore, if any other co-members of a workspace view your calendar schedule via your profile, personal events will only show as the word 'Busy' in place of the event details. Items within My Calendar can also be added to other calendar programs using iCal Subscription.
Weekly View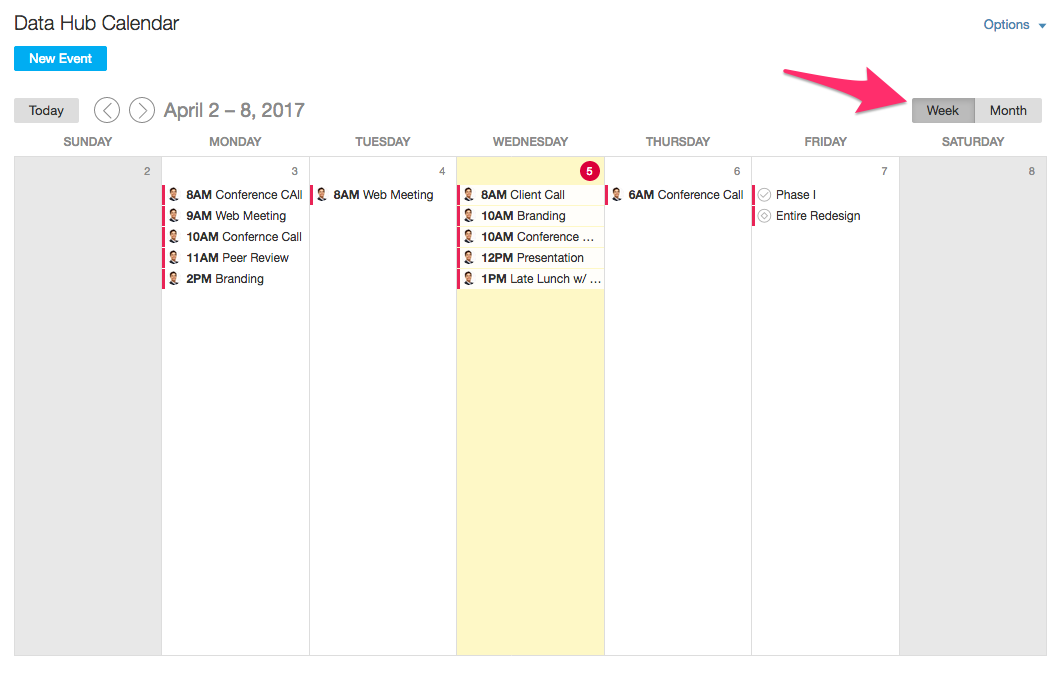 In addition to the default Monthly view, you can now switch to a simple 7-day option at the top right of the screen when you're in your calendar. This view provides a clearer display of days with large amounts of tasks and events.