Can browser plugins and extensions affect my connection to iMeet Central?
If you are encountering speed, upload, download, or various interface problem with iMeet Central it could be caused by a plugin, add-on, or extension that you have installed in your browser. To see if this is the case you can try disabling all plugins, add-ons, or extensions within your browser. Here are steps for various browsers: 
Microsoft Internet Explorer 11 and Later:
Click the menu button  and choose . The Add-ons Manager tab will open.
In the Add-ons Manager tab, select the 
 panel.
Select the plugin you wish to disable.
Select 
 in its drop-down menu.
To re-enable the plugin, find it in the list of Plugins and select 


 in its drop-down menu.
Google Chrome:
Click the menu icon "≡" at the top right of the browser window, choose More tools and choose Extensions to open the Extensions
Uncheck Enabled to disable an extension or lick the trash can icon next to the extension you want to delete.
Enter chrome://plugins in Chrome's address bar to view plugins installed for your browser.
Click the Disable link under the plugin you want to disable.
Test Trimble Connect with this add-on disabled.
Repeat steps 4 and 5 for every add-on until you find the one the issue in Trimble Connect. Leave that one disabled and enable the rest. When you're finished, click Close.
Safari:
Open the Safari app on the Mac if you have not done so already
Pull down the "Safari" menu and choose "Preferences"
Go to the "Security" tab
Uncheck the box next to "Internet plug-ins" so that 'Allow Plug-ins' is unchecked and turned off
Exit Preferences and use Safari as usual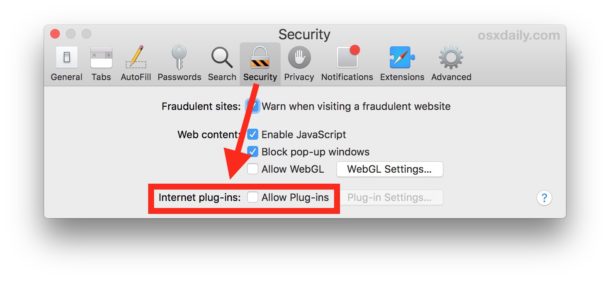 For best results, you'll likely want to quit and relaunch Safari.