You can share uploaded files and Online Documents to people who are not members of your workspace. We offer the ability to share single or multiples files at once. The ability to monitor users viewing shared links, password protect links, and create links that expire are also available.
Learn about:
Configuring Public File Sharing Options
Simple mode
Advanced mode
Plan Compatibility:
iMeet Central® for Agencies and iMeet Central® for Enterprise plans have full access to public file sharing.
This feature is unavailable to iMeet Central® Desktop Professional plans.
Configuring public file sharing options
As a workspace Admin begin by going to a workspace and clicking through Settings > General Settings > Access & Security and then locate Public File Sharing Options under the Access & Sharing section. Choose either Simple Mode, Advanced Mode (with Link Expirations) or choose to Disable this feature.
Simple mode
Simple mode is the easiest way for you to share links with people who do not have logins. Navigate to any online document or uploaded file, then select the Share drop-down menu and then select Send via Email or Copy public link to share the item. Send via email will compose a new email (using your default email client) with a link to the item you want to share. Choosing to Copy the public link will retrieve a shareable link for you to share.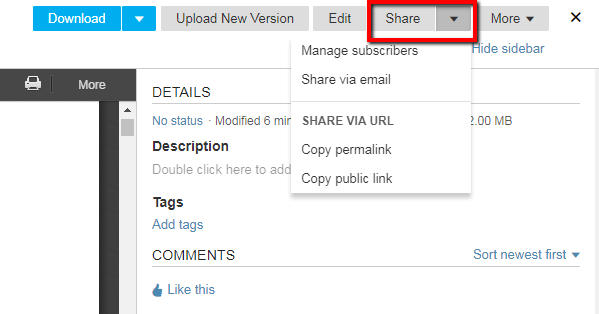 To email multiple files out at once go directly to Files & Discussions tab and select More > Email Files. This will compose a new email (using your default email client) with links to the items you want to share.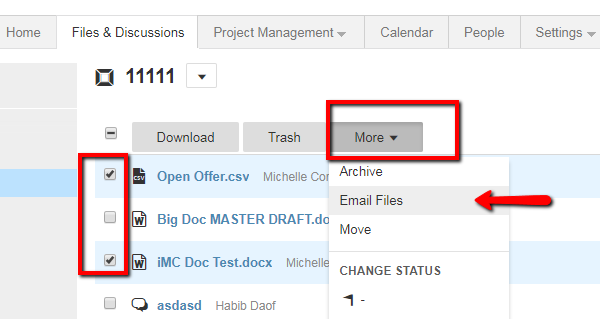 Advanced Mode
When you select Advanced Mode in Workspace setting you have the option to set a default expiration period for all public links that you create.

Advanced Mode provides additional features that allow greater control over your shared links. In addition to sending an email and shareable link you also have the option of managing the links you've shared out.
The Send via Email option allows you to share links via email. From here you can perform the following: 
Send to: list individual emails for the link to be sent to
Expires: set an expiration date for the link, making it inaccessible on that day
Subject: enter a subject line for this message.
Message: provide a note for your email
Password: set a password for the link.  The password will not be sent in this email, and it must be communicated to the individuals separately.  This is intended to provide another layer of security in case the link for the file is shared with unintended participants.  
Options: allows you to receive a copy of this email, receive a notification when the link is viewed, and restrict the ability to download the file.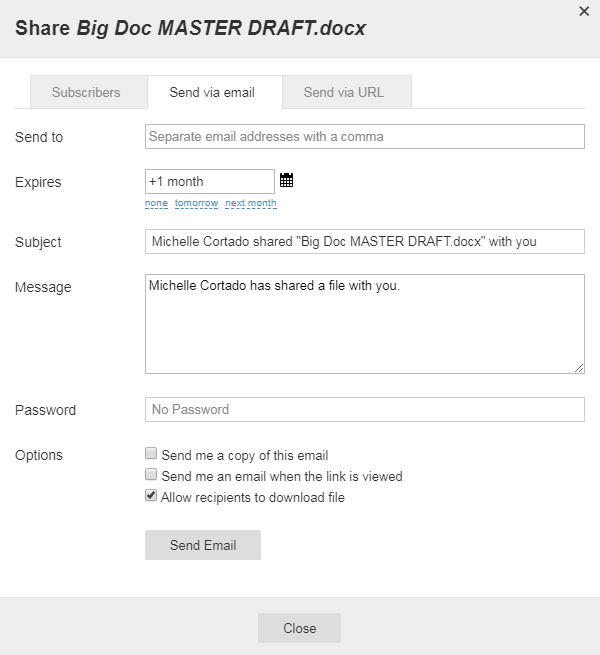 The Send via URL tab creates a permalink for you to copy and share with users within iMeet Central. The Public Link option provides a URL for you to share publicly with users outside of iMeet Central. This tab provides information about the public link and gives you the option to delete it.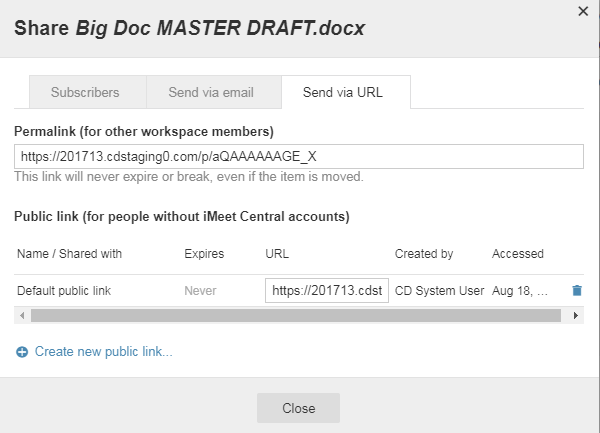 Public Document Preview
Below is an example of what the public document preview looks like