If you're using Windows 7 to connect to Web Folders, you may have seen the following error: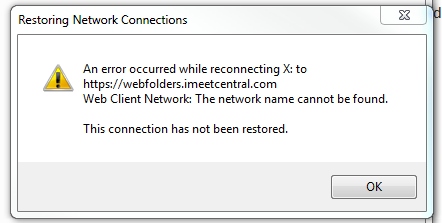 "An error occurred while reconnecting to [Web Folders Path] Web Client Network: The network cannot be found"
In summer of 2018 we upgraded the security on our platform (including the web application as well as Web Folders) to TLS 1.2. TLS 1.2 is an important security measure that has been widely adopted by software providers, including later versions of Windows (Windows 8 & 10 for example). You can read more about TLS 1.2 is here: The Top 8 Things You Need to Know About TLS 1.2
Though Windows 8 and Windows 10 support TLS 1.2, Windows 7 does not by default. There are a couple of ways to access Web Folders on Windows 7 now that TLS 1.2 is enabled. The simpler method is to use a WebDAV client that supports TLS 1.2 - like CyberDuck. We also have instructions on iMeet Central on how to install and configure the CyberDuck to access Web Folders.
- CyberDuck Download
- Installation and configuration instructions
If you prefer to use the native Windows 7 to access web folder then you must update the WebDAV client to access Web Folders. You may use the article below as a guide but please note that the article requires a certain level of windows technical experience, and we recommend that you reach out to your help desk or IT team to assist with the solution.
Update to enable TLS 1.1 and TLS 1.2 as default secure protocols in WinHTTP in Windows