Single sign-on allows for a seamless user log in experience using existing network credentials, rather than a separate iMeet Central username and password. As part of a sophisticated IT solution, credentials are passed from the user's operating system to iMeet Central without the user's awareness.
Please note that signing into iMeet Central using SSO is only available to Internal Members
Configure SSO with the following Identity Providers: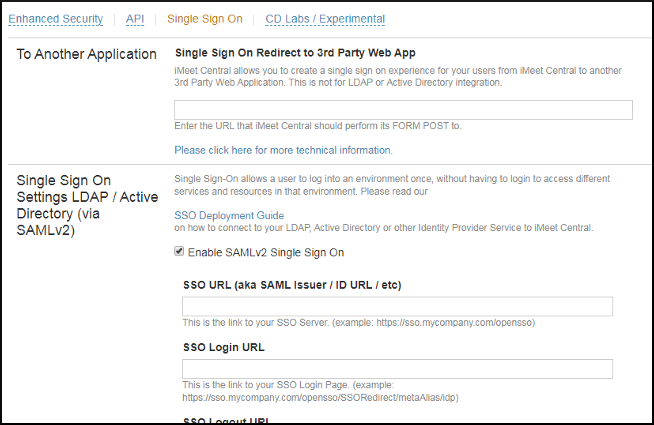 Additional iMeet Central SSO configurations include:
Display a link to your SAML v2 login page

If you select this option a "Network Login" link to your identity provider will be displayed on your login page.

If you do not select this option you may access iMeet Central via your identity provider by using https://[CompanyDomain].imeetcentral.com/sso
Most users will want to leave this option checked.

Automatically create new users

If you select this option, any new users added to your connected LDAP, Active Directory or other Identity Provider Service will be automatically added to your iMeet Central company when they sign in.

Unique Usernames

iMeet Central has unique usernames across the entire System, not just your account. This means that if you want to ensure unique usernames across your Account you can prefix or suffix your usernames with a string. Use the fields below to make these changes.

Prevent users from changing username & password

This option prevents Single Sign On users from changing their username & password in the iMeet Central interface.